Hi, Alicia here! Around this time of year, most spas start offering Pumpkin Enzyme mask treatments- and for good reason. Pumpkin is an excellent exfoliant, naturally filled with alpha hydroxy acids and fruit enzymes. It's also high in antioxidants and Vitamin A, C, and E.
When you add honey to the mix, you introduce antibacterial properties and boost hydration. The lactic acid in yogurt helps to exfoliate, hydrate, and soothe even more. The synergy of these ingredients creates a healthy way to care for your skin, turning a dull, uneven complexion into a radiant one.
Since a spa facial isn't in everyone's budget, here's a simple DIY face mask recipe to reap all of these beauty benefits at home.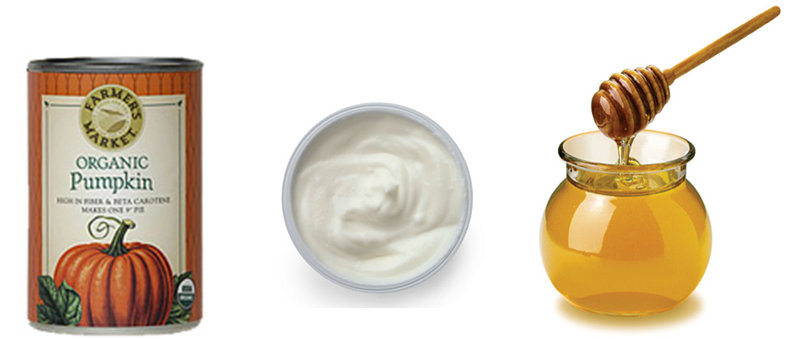 WHAT YOU'LL NEED
Pumpkin Puree (you can use canned puree or make your own)
Organic Honey
Organic Greek Yogurt
*No measuring is even necessary for this easy treatment– create your own mixture with just a dollop of each ingredient.*
HOW TO USE
Mix all of the ingredients in a bowl and apply to damp skin. Enzymes work better if skin is slightly damp. Leave on for 10 minutes, then rinse. Use once a week.
WHAT TO EXPECT
A slight sting is absolutely normal. Burning, however, is not! If you experience any unbearable burning, remove immediately. Skin may be slightly pink after washing off. Finish off with your favorite moisturizer.
MORE PUMPKIN ENZYME PRODUCTS
See you in November with more Fall-inspired beauty!
xo,
Alicia, The Dumbbelle
Images modified from Gluten-Free Fix.
P.S. Please consider supporting my small, decorating and style-loving team by clicking my links before shopping or checking out at your favorite online retailers like Amazon*, Nordstrom*, Shopbop*, and west elm*. I truly appreciate your support!
P.P.S. For more decorating ideas and style ideas, find me on Bloglovin, Facebook, Feedly, INSTAGRAM, Pinterest, Snapchat, Tumblr, SHOP SARAH SARNA, and don't forget to SUBSCRIBE!