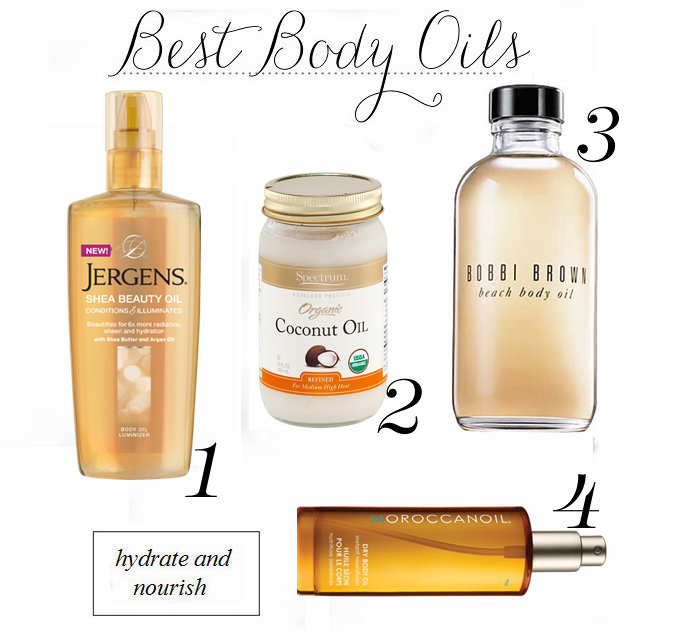 Make sure to visit Alicia's blog: The Dumbbelle!
Hi, it's Alicia from The Dumbbelle, sharing my first monthly beauty column on LTLYDA. Beauty oils, both for the face and body, are one of my skin care obsessions. If you're looking for a luxurious way to hydrate, these silky body oils will do the trick.
Adding a layer of shine to your legs will also make them appear more toned (think: Carrie Underwood), because the not-too-greasy gleam makes all of the key curves of your muscles catch the light and look more pronounced.
Here is a roundup of my current favorite body oils. Hint: Use on damp skin after a shower for best results.
1 – Jergens Shea Beauty Body Oil: Illuminates the skin with 6x more radiance, sheen and hydration; sinks in quick and moisturizes beautifully.
2 – Raw Coconut Cream: There are endless beauty benefits of coconut oil; it's a product I swear by! Massaging it on my legs everyday was the only thing that got rid of dry patches leftover from winter.
3 – Bobbi Brown Beach Body Oil: I enjoy this oil because it makes the skin glow, but is not greasy at all. It reminds me very faintly of jasmine, gardenias, and coconut; such a relaxing smell to me.
4 – Moroccanoil Dry Body Oil: I love the soft, silky results of the antioxidant-rich, nourishing properties of argan, olive, and avocado oils; locks in moisture and improves skin texture and tone.